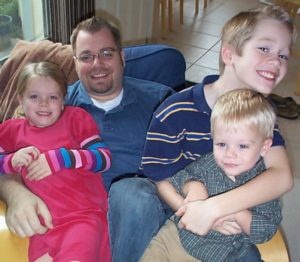 "And these words that I command you today shall be on your heart. You shall teach them diligently to your children, and shall talk of them when you sit in your house, and when you walk by the way, and when you lie down, and when you rise" (Deuteronomy 6:6-7).
As I reviewed Bible verses for LFL's 2012 Life Sunday theme of Trust God! – Choose Life! I was reminded of a writing workshop that I took in the late 1980s at Concordia College in Seward, Nebraska. One of the things the teachers encouraged us to do is to spend lots of time writing. So I did.
One was a devotion that I began after walking into my youngest son's bedroom.  Jeff was nine years old. I looked at the toys and clothes spread all over his room and began writing a devotion about the fact that someday our home would be clean and silent. Why? Because Jeff would have grown up. While I certainly wanted a cleaner home, I was not really interested in seeing my youngest grow up too quickly. His brother was leaving for college and his sister was in high school already. I wanted to keep Jeff near us for a long time. So, I put the devotion aside.
The years flew by quickly! After college, Jeff stayed and worked in the Chicago area. Then early in 2007, he decided he wanted a new career. While working on a new degree, he moved back home with my husband and me for a while. We enjoyed it! Those years flew by too! We are thankful God gave them to us.
In November of 2009, Jeff began running a low-grade fever that wouldn't go away. Then on December 8, an MRI  showed he had a mass on his upper thigh. We found out it was a sarcoma, a rare soft- tissue cancer—and it was malignant. (This mass had been looked at in July of that year, but the doctor had told him it was not cancer. Of course, Jeff believed him. Thirty-one-year-old, 6 foot 3-inch healthy men don't get cancer, do they?)
A later test showed the sarcoma on his thigh had spread to his lungs. Surgery was no longer an option, but chemotherapy and radiation treatments began. We asked hundreds (maybe thousands) of people to pray with us for complete healing and that Jeff's faith would grow stronger.
In June of 2010 things started happening quickly. Jeff began having more problems moving around and said he felt really strange. After a trip to the emergency room, and a hospital stay, tests indicated the tumors on his lungs had grown and were pressing on the main valve to his heart. They told us to bring him back to the hospital immediately. At 2:30 a.m. the next morning we received a call to come to the hospital immediately. The doctors had told Jeff that he was terminal and wasn't going to survive. It was the first time he had been told this. He was upset and wanted us to be with him. Up until that time, we all had thought he would get better—but now we were being told Jeff probably had only two weeks to live.
The hospital staff encouraged him to go into hospice. He wanted to do this so he could say goodbye to everyone. If he had stayed in the hospital only immediate family members would have been able to visit him.
Jeff informed his friends about his situation through Facebook. Some of his Chicago friends traveled to St. Louis to see him. They had pizza and shared great stories of their college years together. Our extended family and many of Jeff's friends from the local area also came to visit. He was tired, in pain, on oxygen, but wanted to see everyone.
He got worse quickly. He came home on Friday and passed away on Tuesday of the next week (June 22, 2010). He was 32 years old. The day he passed away my husband and I were trying to help him get comfortable. We both told him we loved him. He said, "I love you both so much." Then he said, "But, I'm ready to go home now." I knew he meant heaven. We all fell back asleep. Two and a half hours later he went to be with the Lord.
God's Word says, "I have set before you life and death, blessing and curse. Therefore choose life, that you and your offspring may live, loving the Lord your God, obeying his voice and holding fast to him, for he is your life and length of days …" (Deuteronony 30: 19b-20a).
My husband and I chose life years ago for our children as we took them to be baptized. Through baptism, God made them His children. We committed them to the Lord and knew He had given them to us as a gift. We chose life for our children as we brought them up to know the Savior, to trust Him, and to rely upon Him.
But, we can't believe for our children.
Jeff knew Jesus as his Savior and Lord all his life and he grew in his faith during his illness. He chose life, held fast to Jesus, listened to His Word, and now lives eternally with the Father in heaven.
We hold close to our hearts what Jesus said in John 5:24:
"Truly, truly, I say to you, whoever hears my word and believes him who sent me has eternal life. He does not come into judgment, but has passed from death to life."
by Kay L. Meyer