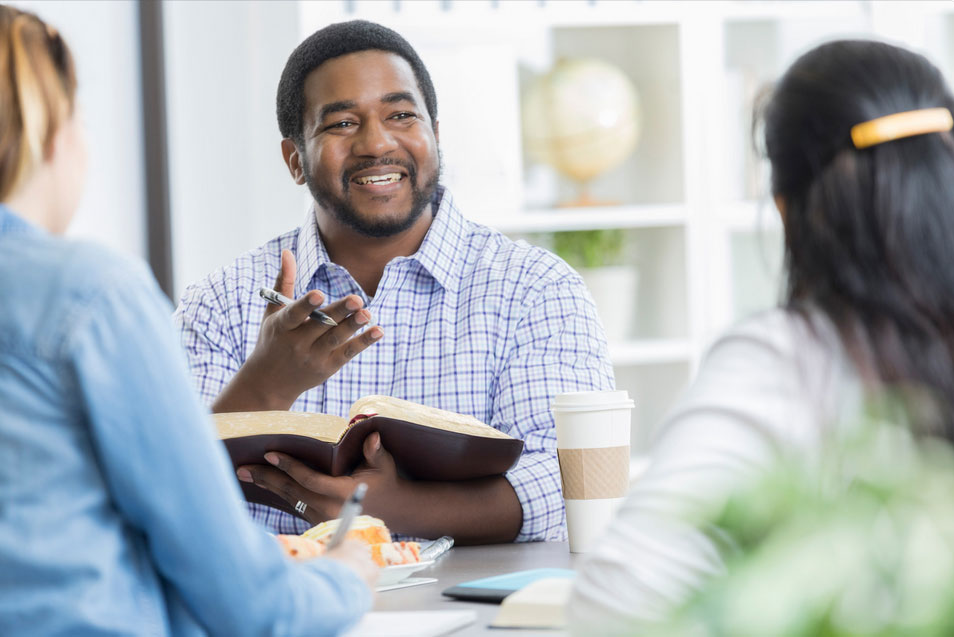 Talking to People About Jesus
Talking to people about Jesus can be a joy, a privilege, and a challenge. Many people, within and outside of the church, think Jesus was only a man and that we should strive to be like him. Sometimes Christians wlll say, "Jesus is God." But Christians seldom talk about the fact that Jesus has a dual nature. He is both true God and true man.
Certainly people we share Christ with need to know he is our Savior and Lord. They need to learn that he was perfect and without sin. He made Him who knew no sin to be sin on our behalf, that we might become the righteousness of God in Him (2 Corinthians 5:21). For we do not have a high priest who cannot sympathize with our weakness, but one who has been tempted in all things as we are, yet without sin (Hebrews 4:15).
Those we talk to about Jesus need to know he suffered and died on the cross for all our sins. Pray now that the Lord will give you the words to speak about Jesus in the minute you need them. Also pray that those you speak to will be receptive to learning more about him.
I presented "Sharing Jesus" at a conference a couple years ago. It was video-taped and focused on "The Dual Nature of Christ." The video is attached below so you can watch it. You might also want to listen to a Family Shield podcast entitled, "It's All About Jesus!" We discuss who Jesus is and what he has done for us.
"And there is salvation in no one else; for there is no other name under heaven that has been given among men, by which we must be saved" (Acts 4:12).
In His Service and yours,



Kay L. Meyer
Radio Programs, Podcast Topics, and Guests
with host, Kay L. Meyer, founder & president of Family Shield Ministries
Responding to Atheist
May 10-16
Guest: Dr. Ron Rhodes
Divorce and Our Children
May 17-23
Guest: Yvette Marie Seltz
Dealing with Disabilities
May 24-May 30th
Guest: Judy Redlich, Host of Encounter
God's Gifts for His Purpose
May 31-June 6
Guest Host: Rev. Alex Schrader
Guest: Rev. Art Klausmeier
Bible Storying for Families
June 7-13
Guest: Rev. Jason Boetcher
Guest Host: Rev. Mark Frith
Conflict in Marriage
June 14-20
Guest: Marty Lindvedt
Spiritual Warfare
June 21-27
Guest: Rev. Michael Newman
Traveling with Our Children & Families
June 28-July 5
with Kay Meyer and Nancy Stallard
Joining Jesus as a Family:
How to Raise Your Children to be Followers of Jesus
July 6-12
Guests: Greg and Susan Finke
UPCOMING PROGRAMS
Grace under Pressure-Responding Faithfully to Stress
Guest: Christopher Kennedy
Unraveling The Lie-Knot 
Guest: Sheryl Giesbrecht Turner
DONATE TO SUPPORT FAMILY SHIELD MINISTRIES
Family Shield Ministries, Inc, is a 501 (c) 3 non-profit organization and is recognized for tax-deductible giving by the federal government. It is also a Recognized Service Organization of The Lutheran Church--Missouri Synod. You can give by sending a donation or through our website at www.familyshieldministries.com.
PLEASE SHARE OUR EMAIL NEWSLETTER WITH A FRIEND OR YOUR CONGREGATION